FaSSCoF: Product Benefits
Biorelevant Media simulate gut fluids before (fasted) and after (fed) eating food. They are really useful for predicting what will happen to your product when it enters the gastro-intestinal tract.

In 2007 we invented a product that makes the original versions of Biorelevant Media instantly, FaSSIF and FeSSIF which replicate fasted and fed fluids in the small intestine. This year, we are launching 'FaSSCoF' powder which simulates fluid found in the fasted state colon. The Biopharmaceutics department at the University of Athens first explored how human colonic fluid could best be represented in the fasted state*. They proposed 'FaSSCoF' which stands for 'Fasted State Simulated Colonic Fluid'. This is particularly useful for testing products with an 'extended release' dosage form where absorption in the colon is targeted. The original method for making this medium was extremely complicated but biorelevant.com has developed an easy to use powder that can simply be added to buffer to produce the simulated colonic fluid in seconds. It has been trialed in a recent research project by five of the biggest Pharmaceutical companies in the world, together with 'FeSSCoF' powder representing fed state colonic fluid which we have also just made commercially available. There are many benefits of using our products to make these colonic media: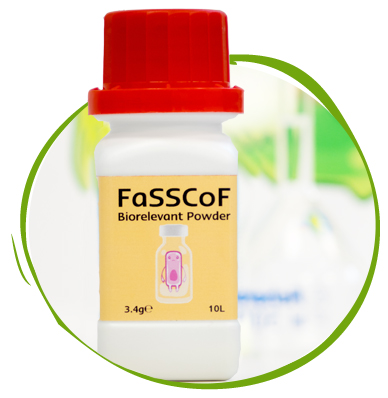 Quick and easy to use
Simply add powder to buffer and you're ready to go...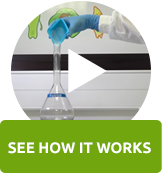 Reproducible results
We use the highest grade of ingredients and double check their purity before manufacture. The powders are made in our own facility in London so we can control every aspect of their production. Once this process is complete, they are only released after rigorous analysis by an independent laboratory in Germany. These steps ensure you will get highly reproducible results from our products every time you use them.
Great value
Each bottle produces 10 litres of FaSSCoF medium and we also offer money-saving 4 packs.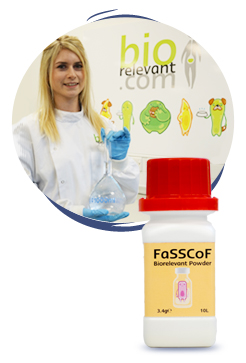 Testimonial

We spent quite a bit of time working on finalizing the FaSSCoF and FeSSCoF recipes and even more fine-tuning the method of preparation as much as possible (working from scratch, i.e. working with individual components for each solution). It was not easy at all and we are very happy that biorelevant.com managed to overcome relevant issues and make the preparation of FaSSCoF and FeSSCoF solutions so simple!
*Vertzoni M, Diakidou A, Chatzilias M, Söderlind E, Abrahamsson B, Dressman JB, Reppas C: Biorelevant media to simulate fluids in the ascending colon of humans and their usefulness in predicting intracolonic drug solubility (2010)