Biorelevant Dissolution Protocol
We have developed a biorelevant dissolution method that can that be used for oral immediate release dosage forms. The main principles are based around the USP Chapter <1092> The Dissolution Procedure.
It involves carrying out a preliminary assessment with some basic method development before conducting the dissolution and sample analysis (analytical finish).
Preliminary Assessment
As with any dissolution method, it is important to select the right filters prior to starting the tests. This is to make sure the drug is sticking to the filter (adsorption) and removes insoluble excipients which can interfere with the analysis (analytical finish) of the sample.
Unlike a QC method, selection of media is governed by physiology of the gastrointestinal tract. Media volumes should be fixed at 900mL because this facilitates interpretation.
Our method employs USP Apparatus 2 for the advantages explained in Biorelevant Dissolution Testing.

Factors to consider during Method Development
Deaeration of Biorelevant Media is typically not required and quite problematic due to the presence of physiological surfactants. Maintaining deaeration during the dissolution is also impractical.
As with traditional dissolution methods, sinkers may be needed for hard gelatine capsules that are likely to float. The same type of sinker should be used across all media that are to be studied.
The RPM is usually 75rpm. However, this should be verified in the media to ensure coning is not occurring for both Test Product and Reference Drug Product.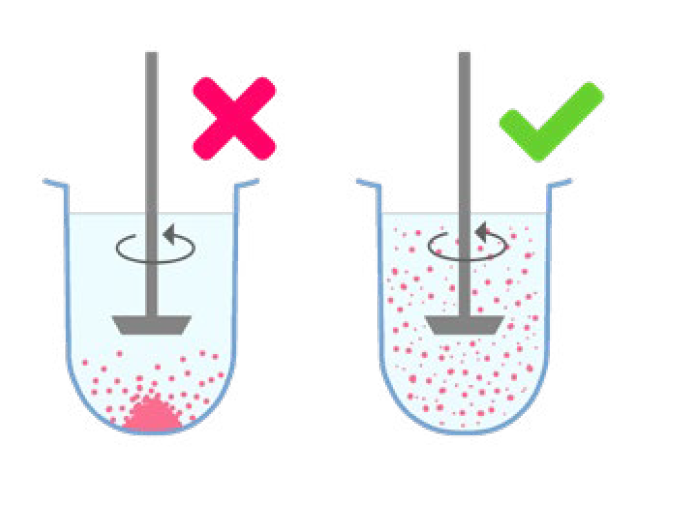 We have a sampling schedule with a fixed set of time points that ensures crucial dissolution data is captured for the Reference Product and Test Product. Unlike QC methods, the development method gives insight into how the dissolution process is within the simulated gastrointestinal fluids within an in vitro setting. These sampling points may be adapted in subsequent tests according to the profiles obtained.
For a new project, we recommend manual sampling with samples taken from the vessel. We typically start with n=6 for media. If statistical analysis in the selected media is desired, n=12 vessels is recommended.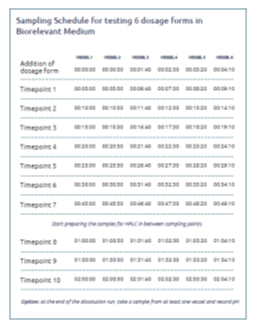 Analytical Finish
As with all dissolution methods, the sample handling and analytical procedure should be validated. This involves checking sample preparation, sample stability, specificity of the method, linearity and range of the analytical method, with supporting accuracy and precision.
Further Info
If you have any questions or would like a copy of the protocol, please contact the Biorelevant Help Desk.