Taking Your Medicine
These are the 3 common ways a medicine can be taken: before a meal, with/after a meal or either before or after a meal. The exact method of administration is usually explained in the patient information leaflet provided by the manufacturer. This may have a significant influence on how much drug is absorbed into the patient's body and ultimately how successful their therapy is. The effect of a meal on a new medicine must be determined in clinical biostudies before the drug is authorized to enter the market.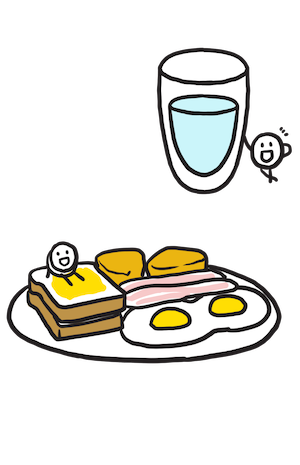 Before a meal
When a medicine is administered before a meal this means no food should be eaten for a specified duration of time either before or after the medicine is taken. The drug is normally co-administered with a glass of water which helps the patient swallow the dry dosage form. In the BNF (a formulary for UK healthcare professionals to check how a drug product should be taken), the corresponding label claim for this state will usually be "Take this medicine when your stomach is empty. This means an hour before food or two hours after food". This is the case with antibiotic phenoxymethylpenicllin tablets. If taken with food, this antibiotic is less stable chemically, results in lower systemic blood levels and the desired therapeutic levels in the body may not be reached.
With/after a meal
When a drug is recommended to be administered with or after a meal this means the medicine should be taken at the same time as food. This may help reduce gastric irritation or boost drug absorption. In the BNF, the label of the medicine will state "Take with or just after food or a meal". In extreme cases, if the drug product is administered in patients in the wrong way a drug may not even reach its minimum therapeutic level and the patient's treatment could fail. Take Orkambi® (lumacaftor/ivacaftor) tablets or oral granules for example; if administered without food, the extent of absorption will be reduced by about 2/3 because the fats coming from the meal that would help dissolve the drug and increase absorption are absent.
Before or after a meal
If there is no limitation on how the drug should be administered the medicine can be taken with or without food. This means that during clinical trials before the drug was marketed, taking the medicine with a meal was not found to interfere with the treatment outcome. This is the preferred label claim because it gives maximum administration flexibility for the patient and food will not affect the clinical outcome. An example of a medicine which has this administration label claim is Lipitor® (atorvastatin).