Makes the second version of FeSSIF (Fed State Simulated Intestinal Fluid)
Contains physiological surface active ingredients
✔ In Stock For Immediate Dispatch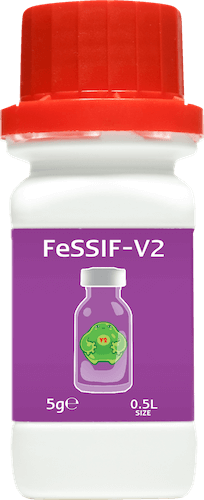 | Product Code: | V2FES01 |
| --- | --- |
| Makes: | 0.5 litres of FeSSIF-V2 |
| Powder Weight: | 5 g |
Makes the second version of FeSSIF (Fed State Simulated Intestinal Fluid)
Contains physiological surface active ingredients
✔ In Stock For Immediate Dispatch

''

We have used it frequently in our lab for more than a year because this 'ready-to-use' FeSSIF-V2 can be easily reproduced even for small volumes (i.e. for solubility purposes) compared with the conventional prepared media which require multiple ingredients to be sourced and use up a lot of analytical time. Of course, we are pleased to use FeSSIF-V2 powder for simulating fed conditions since it makes our 'lab job' so much easier! Thank you for existing!

''

''

''

''

Trying to convince people that we should use biorelevant media in order to accurately predict the in vivo situation is one thing, but knowing that these media are also easy to make should convince everybody to work with it. Even in fed state media (where we are dealing with a complex intraluminal environment), biorelevant.com has now launched the new FeSSIF-V2 which can lead to more optimized predictions in postprandial conditions.

''

''

''

''

The products are perfect... we are very pleased with them and the service offered.

''

''

''

''

I've always gotten reliable and reproducible data with the products that helped the formulations department better adjust their experiments to produce desired dissolution profiles. Love the wide range of media as well!

''

''

''

''

We have found the FeSSIF V2 powder to be easy to use and dependable. Your online instructions for making buffers are straightforward and easy to understand. We will no doubt keep using your products in future research.

''

''

''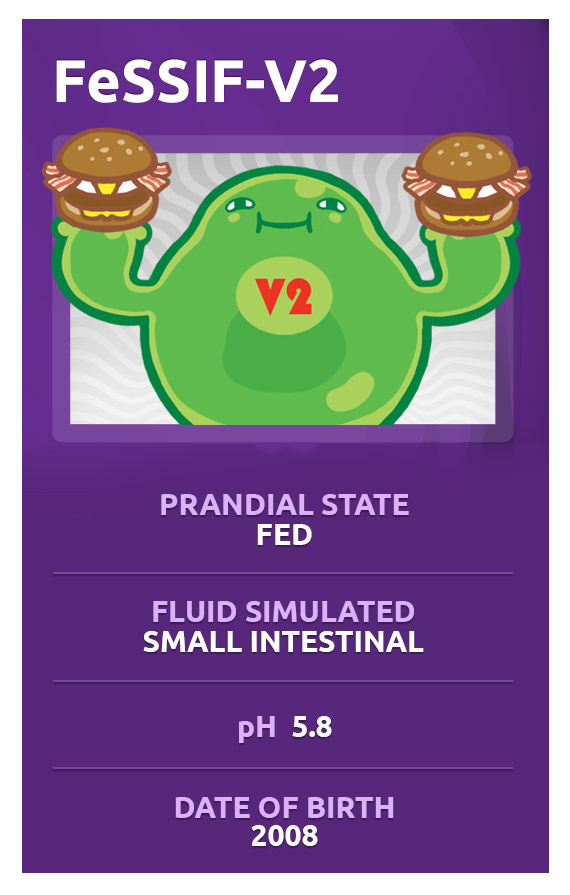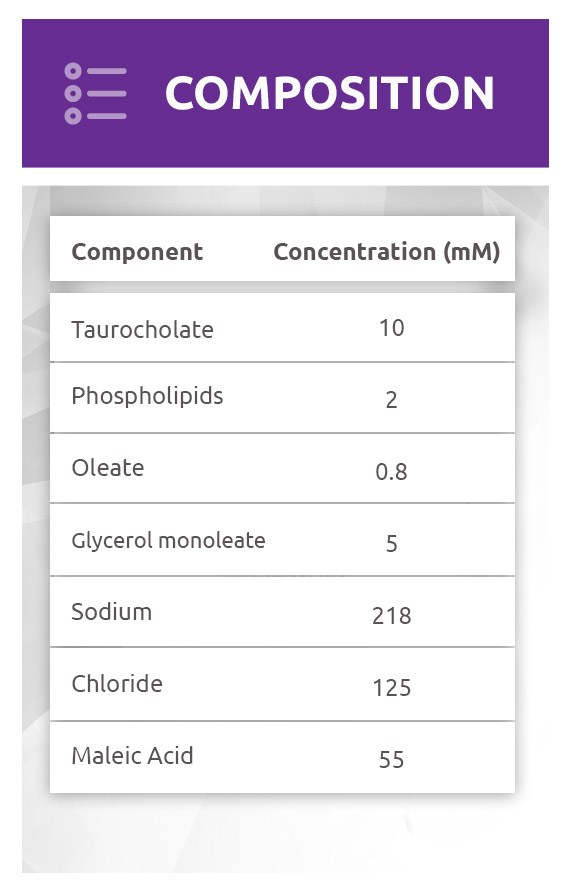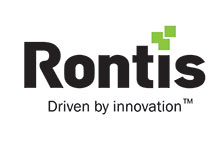 ''
We have used it frequently in our lab for more than a year because this 'ready-to-use' FeSSIF-V2 can be easily reproduced even for small volumes (i.e. for solubility purposes) compared with the conventional prepared media which require multiple ingredients to be sourced and use up a lot of analytical time. Of course, we are pleased to use FeSSIF-V2 powder for simulating fed conditions since it makes our 'lab job' so much easier! Thank you for existing!
''
''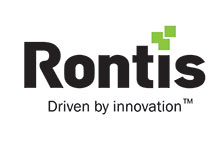 ''

''
Trying to convince people that we should use biorelevant media in order to accurately predict the in vivo situation is one thing, but knowing that these media are also easy to make should convince everybody to work with it. Even in fed state media (where we are dealing with a complex intraluminal environment), biorelevant.com has now launched the new FeSSIF-V2 which can lead to more optimized predictions in postprandial conditions.
''
''

''

''
The products are perfect... we are very pleased with them and the service offered.
''
''

''

''
I've always gotten reliable and reproducible data with the products that helped the formulations department better adjust their experiments to produce desired dissolution profiles. Love the wide range of media as well!
''
''

''

''
We have found the FeSSIF V2 powder to be easy to use and dependable. Your online instructions for making buffers are straightforward and easy to understand. We will no doubt keep using your products in future research.
''
''

''
We have sent you the results
Please check your e-mail inbox
Error while sending the email
Please try again